My daughter and I are both professional artists. Sometimes our careers cross over each other and when that happens the results can be, well, spectacular. That is how the whole Precious Rebels collection was born. We like shiny, sparkly things.
For those unfamiliar, our Precious Rebels Swarovski Crystal™ encrusted instrument collection has grown to become one of the most successful and sought after art instrument collections worldwide. Many of our fully playable instruments have found homes among art collectors, musicians and celebrities who have been commissioning or purchasing the instruments for their own personal use or for corporate collections.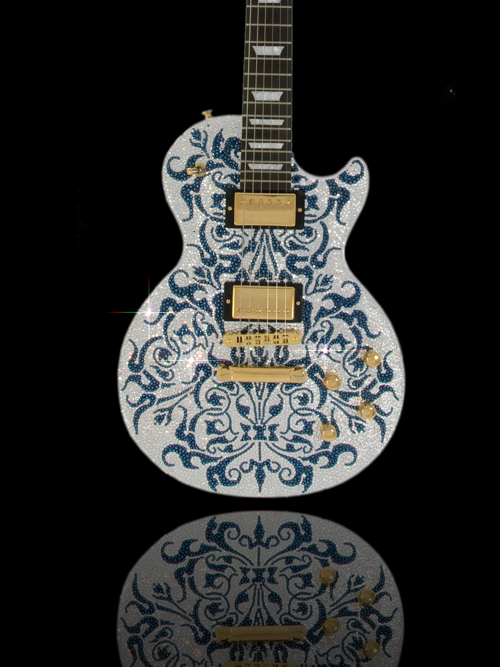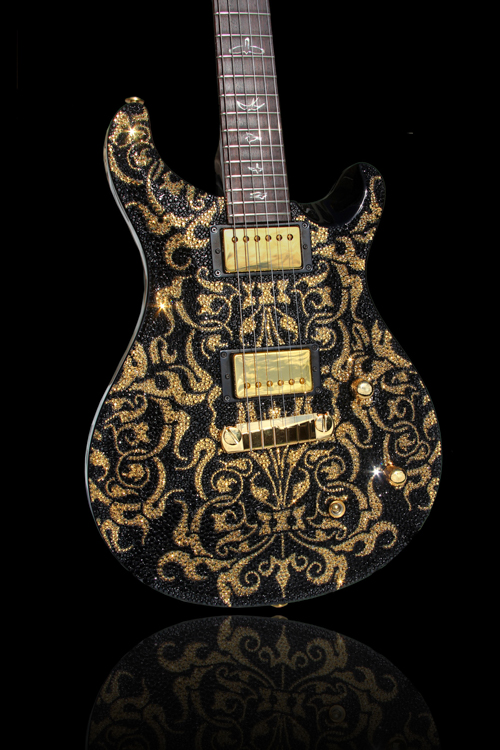 While we have created cellos, violins, mandolins and guitars, by far the most popular instruments are the guitars. My personal favorite Precious Rebel guitar is entitled "The Parisian". Today I will share the inspiration behind it and why the affiliated painting "The Precious Rebels Parisian" is so special to me.
The Backstory:
Our family was on a trip to Paris, where my daughter Amanda creates her stone lithography. I think most people understand that Paris is a fabulous playground for artists. It certainly has been for the two of us, yet it inspires us in different ways. She returned home inspired by artforms, techniques, museums and art history. I came home inspired by the beautiful antique tiles on our historic hotel room's floors. I was taken by the classical design's unique color, scrollwork and interesting detail. I was so engaged that I took photos and sketched renderings so I wouldn't forget them upon our departure. When I got back home to Texas, I began to work on my own designs inspired by those special Parisian tiles. I wanted to capture them somehow in my work. Little by little, and as the Precious Rebels instruments gained their momentum, I began working my "tile" designs into my guitar concept drawings. Before they were incorporated into the guitars, I incorporated my tile designs into my guitar paintings. My favorite concept painting remains the "Precious Rebels Parisian." I enjoy its sophisticated color palette and its playful instrument placement. It is subtle but fun.
To see more of the Precious Rebels, visit our site: PreciousRebels.com